Robin de Levita produced 3 feature movies, line produced more than 100 Tv shows, but is best known for producing more than 80 first class theater productions in 7 countries, including 17 Broadway and 4 West End productions, winning numerous international awards including Tony Awards for Titanic, 42nd Street and Into the Woods, plus a Laurence Olivier Award for The Who's Tommy.After producing 7 features Robin recently wrote and directed his first full Feature; Lost Cos. The movie received 29 Awards from IMDb qualified Festivals, including 14 for Best Director.
In Europe Robin was responsible for many musical theater productions such as, The Lion King, Les Miserables, CATS, Miss Saigon, The Phantom of The Opera, Dance of The vampire, Blue Man Group, Chicago, Sweeney Todd, West Side Story, Cabaret, AIDA and many others. For 5 years he was part of the board of Stage Entertainment overseeing all theatrical productions World Wide.
De Levita has in recent years become famous for his use of innovative staging techniques. As a producer of Soldier of Orange (the longest running musical in Dutch history), De Levita created a rotating auditorium. For the play ANNE he invented a new system that seamlessly integrates video with moveable and rotating stages. Both shows use ground breaking staging concepts that challenge the relationship between the performance and the audience. Prizes/Awards Tony nominations for Cyrano ñ The Musical, 42nd Street, The Music Man, Urinetown and Into the Woods. Received an Outer Critic Award for Victor Victoria. Received Tony Awards for Titanic (Best Musical), 42nd Street (Best Revival), Into the Woods (Best Revival) and a Laurence Olivier Award for The Who's Tommy. In 2012 Robin teamed up with media enterperneur Kees Abrahams and formed Imagine Nation.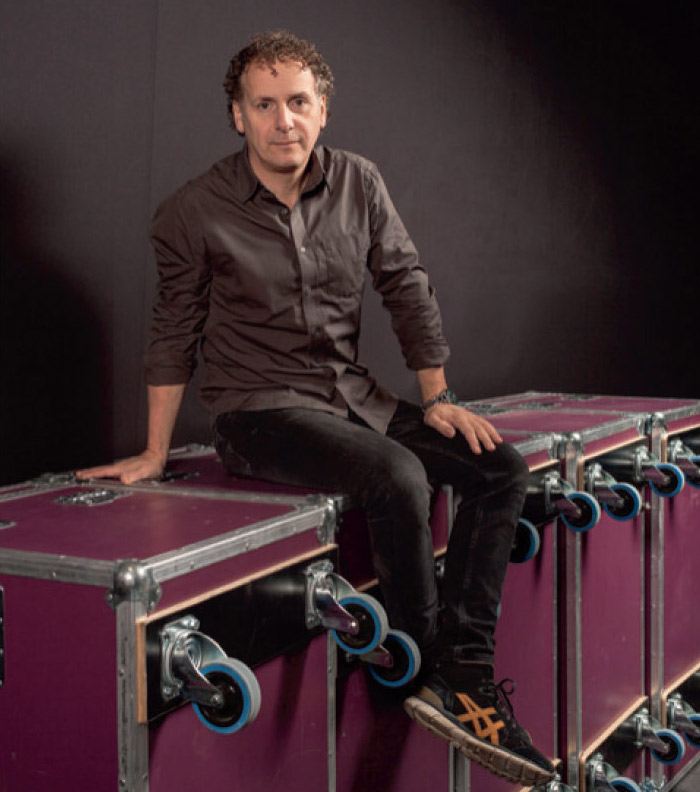 Broadway (New York)
Cyrano, the musical
Victor, Victoria
Hamlet
High Society
Wrong Mountain
Blast
1776
A funny thing happened on the way to the forum
The king and I
Titanic
Footloose
The music man
42nd street
Urinetown
Into the woods
Dracula
Good Vibrations
The West End (London)
Tommy
Contact
Chicago
West Side Story
The full monty
Tokyo
In StageAround:
Seven Souls in the Skull castle
West Side Story
The Netherlands
Barnum
Sweet Charity
Cabaret
Funny Girl
Sweeney Todd
My Fair Lady
Evita
West Side Story
Cats (Antwerp)
Les MisÈrables (The Netherlands and Antwerp)
Elisabeth (The Netherlands and Germany)
Saturday Night Fever
Chicago
Oliver!
Fame
Titanic
Joe de Musical
Sound of Music
Mamma Mia!
six Andre van Duin Revues
Cyrano – De Musical
The Phantom of the Opera
Miss Saigon
Aida
De La Guarda
The Lion King
ANNE,
SKY,
de Fabeltjeskrant (musical),
Iris Hond (Dear World tour).
Germany
Elisabeth
The Lion King
Mamma Mia!
Cats
The Phantom of the Opera
Titanic
AIDA
Les Miserables
42nd Street
Dance of the Vampire
Blue Man Group
Spain
Off Broadway
Savion Glover Downtown
Minor Demons
Television
More than 100 TV Prime time Shows as Line producer and Floor Manager for
Joop Van den ende Productions/ Endemol
123 shows
Wedding Dat?
Showbizz Quiz
Andre Van Duin Comedy Parade
Andre van Duin Revues
Concerts
Level 42
Manhattan
Transfer
Chippendales
Burning Spear
Gladiators
Johnny Cash
Commercials
Pepsi (with Tina Turner and David Bowie)
Industrials
Fokker 70
Fokker 10
100 year Carre theater spectacle
Conceived
Canon Concerto Gala Moscow 2006
TV MOVIE
As Executive producer:
FILM
As producer:
As Writer/Director: